I speak in pictures….
This weekend was has been a blast. Our dear friend Jason came in representing Ojai, CA on Thursday to visit with the family and took some outrageously fun and gorgeous photos. Mostly promo stuff for Great Stone (Bill's musical venture*). The drove out to rural desert, landed at some abandoned dog track in west Phoenix and did some industrial stuff downtown for over 5 hours. They took over 600 photos, mostly film, lots of monochomatic, but some digital. Can't wait to see what comes out of his darkroom.
Here is some silliness that got downloaded today.
" alt="" />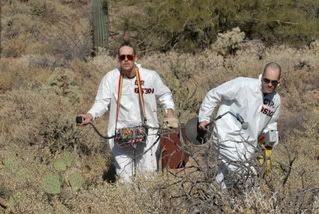 " alt="" />
When I get the ok from Jason, I will post more. There are vibrant shots with saturated sky and fatigue hues of the desert. They posses a strange sci-fi essence to them; alien and cosmic in nature. They do say that dub music comes from another planet, though.
Really, my beat making man is just a dadda of 2 little girls, and helpful husband…and when he isn't capturing the ancient soundscapes in endless wire from the roots up to the needles of nothingness, he enjoys vacuuming in his dress-up clothes.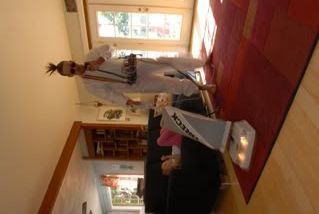 *If you have any interest in reggae, specifically dub music, check out their music myspace I would suggest checking out in a week or so when they upload the newest music from their lab. It's some really gooey sounds.