The Land Of Enchantment.
I guess my obsession with New Mexico started when I was sitting in a little New England style cottage, circa 1800's, in the small village of Lilydale, NY. A world renown spot for mediums, I was getting a reading by an old Ex-nun turned psychic/medium. Her name was Mary, and in mid-sentence while talking about the 3 grandmother figures who were floating in the room around me, guiding me at all times, blurts out: have you thought about Santa Fe, New Mexico? One of these grandmothers wants you to think about New Mexico.
That's all I needed to begin an affair full of intrigue and curiosity with this land they call enchanted. I spent 2 nights in Santa Fe once about 5 years ago, but other than that, had never explored it. All I knew is that it had mountains, forests, water, sun and snow. Plus it's government supports sustainable living and alternative energy more seriously than any other state in the Nation. Sounds good to me.
We chose Christmas-time to go because for us, Christmas has nothing to do with Christianity or religion, so when this time of year comes around, I easily celebrate Solstice, but for Christmas, I am not quite sure what to celebrate. I am not about to be void of it, with children it's best to go somewhat with the flow. It was time for us to develop our own celebration, hand pick friends/family that can vibe with the style of celebration, and do it, for the first time with our kids the way it felt it should be done: from our hearts. I can't deal with dogma or biblical stories, or even the consumerism this culture binds to holidays. For me is needed to be about moving into grace and joy, yet I wanted ritual and service. Church for me has always taken form in the shape of a yoga pose and breath or when I am being swallowed by pristine natural surroundings, ocean and snow always helpful. I wanted to take my kids away into a joyous womb, away from tradition that stems from foreign belief systems, and start our own Christmas rituals of spending the days that surround the holiday deep in nature, communing, celebrating and giving thanks. Gift giving is always fun, but I needed it to be the last and smallest area of the holiday. Eating like a pig can be fun, too, and it seems to be part of the Christmas tradition, but I wanted to do it only after serious hike. And I wanted to be naked. Too many years I wore itchy tights and scratchy skirts. Clothing was not an option. I wanted our Christmas to be an adventure. And adventure it was.
After arriving in New Mexico, we hiked around spots in the area we stayed in, Espanola, NM, a small primarily Spanish-speaking community, not rural at all, but very centrally located. We were 20 minutes from Santa Fe, 30 minutes from Taos. We rented a small cottage at an artist retreat center. It was homey and nice, though fireplace-less and the lighting sucked. It was large enough to fit all 6 of us plus the dogs comfortably. We were on a couple acres of land and the ground was covered in sticky, crunchy snow. The owner of the property greeted us with an array of colored eggs from her Hens.
We began our adventure on Christmas Eve, getting up early and driving into the Jamez Springs wilderness, about an hour outside of the Santa Fe area. We were on a search for hot springs, as we were told some of the best hot springs in the country spilled out of the mountains around these parts. I found that hard to believe because we've soaked our fannies in some of the best springs; along the Salmon River in Idaho, deep in the Tetons outside of Jackson, WY, along the cliffs of southern California at Deep Creek. But we figured we'd check them out (we would NOT be disappointed) and we all loaded in the Westfalia and began our search to soak. On our drive we ran into big-horned elk, about 7 of them, majestic and grand, slowly marching along the snowy bowl that was created by a once active volcano explosion. Elk's medicine offered us stamina and endurance. After we hung out with Elk, we ran into Bald Eagle, who always connects us with the grandfather sky spirit. We knew when we saw eagle, we were on the right track. He soared above the VW for about 5 minutes, putting on a wind-riding show for us, as we crept along the bumpy road, silent and in awe.
Once we hit the road we were told to take, it was apparent that we needed stop and chain the tires. Supposedly five miles down this mountain road we'd hit a trail which would take us to hot springs that a local man, hesitant to give us directions, told us 'was not for beginners, but for the true and experienced hot springer." We accepted his challenge while he scribbled a map on a scrap piece of paper. The road to the trail was about 10 feet wide covered in snow and to the left was at least a 1000 foot drop-off a all times. I gulped a bit and closed my eyes. Like my mother, I am not good with heights unless my feet are firmly planted on the ground. Luckily, Jason was driving. Bill was in the passenger seat. The girls got the back seat which held their carseats. AnneDorthe and myself, along with my two Husky's squished on the vehicle floor. At points the road was so bumpy that my head hit the ceiling of the van. With any other person behind the wheel I would have said to stop and turn around (although turning around was impossible on a road that narrow). But because it was Jason, an x-professional race car and bike driver, I could not have felt safer. The girls were giddy after all the bumping and bouncing and when we finally arrived we had a snow-ball fight in celebration.
After we gathered out towels and extra clothes, strapped the babe to my back, the adventure continued and it went like this: (all photos by brother Jason Byal, www.moebyal.com. These photos may not be used without permission anywhere else).
Over the rickety bridge with raging river below. I was concerned Mia would be complaining by this point; the temperature, which was about 30 degrees was cold, but the sun seemed to over-ride the crisp air and she seemed to be in just bliss; this child is made for the frost, her cheeks lit up like apples and her lips were the shade of ripe rose. She glowed from head to tow. Even her hair seemed to de-tangle and her limbs loosened. She was totally excited about crossing this bridge, which freaked me out a bit with Sula on my back. It was covered with thick ice and had many missing wooden planks. She said she felt like Dora on her Pirate Adventure. My girls is so bad-ass.
" alt="" />
Up the mountain. We had to climb about 1 mile straight up, about 1000 feet, to reach a 7000 foot elevation. It was the perfect amount of climbing to build up a sweat so when it was time to strip down to our skin while the snow spun around us, we'd be warmed up. Mia said the sun felt like gold. I couldn't wait until she felt the warm water of the springs on her ivory skin.
" alt="" />
Almost there…this way…
" alt="" />
To the hot springs. Need I say more than this vision we stumbled upon while switch-backing in and out of dark pines and over big boulders?
" alt="" />
And this was just the top layer. Three other pools tiered below this top one. The temperatures ranged from about 90 - 100 degrees. Perfection. Not an ounce of sulfur smell…which happens in a lot of springs. The bottom of each pool was sandy and the rocks were just slimy enough so they could be pillow-like.
I am at a loss for words to describe this place, this gift. Not one word except maybe ooooooh. Or Ahhhhhh. Definately Oooooooommm. And sublime. At one point I was able to head down to the littlest pool, lay myself out and vibe on the miracle around me for about 1/2 hour. I went so deep into relaxation. It was like I was completely sunk into the heart of the mountain. I felt the beat roll inside me like Balinese drumming. Mia was in awe, her eyes searching the scene, from mountain peak, to sparkly snow drifts, to distant animal sounds. She dove, floated and kicked. It's always nice to have a cold water source near a hotspring. Rivers are good, but even better are piles of freshly fallen snow like we had that day. After we got nice and warm in the water, Mia and I would jump out and do snow-angels, naked, in the snow. Our bodies in perfect shock and ready to jump back in the hot water. When our skin meshed hot with cold, an electric, tingly, burning sensation would volt through us. Both her and I let out big and satisfying: AAAAAHHHHHs. Sula was a bit apprehensive,but that is her nature. She got in with small cries, and as soon as her skin acclumated, she softened, relaxed and sunk into my lap, latching on, while her legs limply floated at the edge of the water's surface. She was alert, yet somewhere else. I kept asking her, "Sula, do you like the water?" She'd gaze up at me, her big brown eyes, mouth around nipple and nod her head and say, "uh-huh" (aka, yes). She wanted to stay in that position for hours. I realized after a bit that the way she felt in my arms in those springs was close to exactly the way she felt in my arms when I lifted her up out of the water from the birth canal.
It was extra-sensory, mind-blowingly spiritual, and the best gift we could have ever given ourselves. I tend to shy away from photos of my kids (and me) that bare bodies, but I can't resist.
" alt="" />
Here is Mia learning to be a goddess from her mama and auntie AnneDorthe soaking below her.
" alt="" />
" alt="" />
" alt="" />
" alt="" />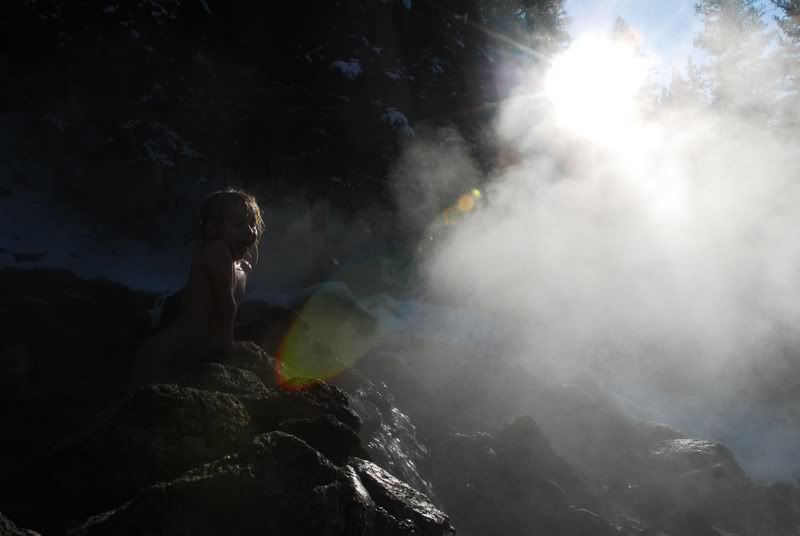 " alt="" />
Our Family Christmas shot: Merry EVERYDAY.
" alt="" />