Los Angeles, CA will always be home. I will admit I am one if it's lost angels, rambling, wandering, artist-types who spent years searching the smog-infested sky for any thing close to a semblance of a star and digging my toes in warm Malibu sand, hesitant to dive into the toxic waters. It's the place where a big circle dwells, the friends who watched me/held me through all my metamorphosis and helped clean up my chrysalis when I eventually morphed. I love it there. I hate it there. I long for the colors, of the city, splashed on buildings and bridges. I miss the cute Japanese girls who hang downtown with their sharp style and fantastic shoes. I miss that dude Joe who used to play the guitar on my corner. I miss hearing the hot buttered corn man and I miss Cafe Tropical guava and cheese pies, and the dog park up the street from where I used to live. I miss the music. The old and new culture. I miss Abbot Kinney in Venice. I miss taking photos of Watts Towers. I want to spend hours searching the racks at Squaresville, a thrift store I die for. I wish I could stroll around Echo Park with my dogs. I do not miss things like the land around Griffith Park burning up to bits and forcing the sky into an apocalyptic purply-pink. I do not miss the sweaty, freaky, good for nothing traffic. I do not miss all the parking tickets that sneak into my glovebox while living there. I do not miss the egos or the filthy-ass air. I do not miss hipster, but I do miss all the hot men.

I really miss the people I personally get to adore write L.A, CA on their return address.
But I get lucky enough to visit now and then.

Just got back from a great visit with my sister who lives in Southern Cali and parents (who were at my sisters while I was there and who are now in Scottsdale visiting with me). I also got to be part of a really sweet blessing for my girl, Leigh Ann, before she has babylove number 2.
Some snippets from a fun fast trip.
One Fresh One Wise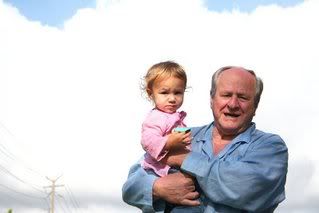 " />
My daddy is almost eighty years old. When I was little I used to pray that he would be around when I had babies. Not only is he around, be he acts like a little kid with my kids; giggly, tickely, silly. They love him because they get M n M's from him, his secret bribe. Which fumes me but the girls are more than pleased with the treats that seem to appear in their PaPa's hands. And hell, they get to see him about twice a year so who gives a shit. My father is passionate, strong and generous (and insane). I am lucky to know him. I feel lucky that my girls get to hug him, kiss him and call him their PaPa.

My Mother and My Daughter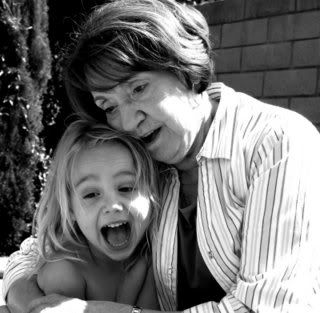 Mimi and her Mia have an interesting relationship. I can see that she sees me in my mom; knowing that I came from this ladies yoni a long time ago, she connects with her like a mother, which means she feels comfortable enough to be herself with her…I mean really herself. She loves her Mimi; listens intently and stares her in the eyes when she talks, tilts her head and takes in all the stories my mother shares with her. Mimi tells her "super special secrets" (like saying Please and Thank You makes everyone feel really happy!) and takes her out for ice cream dates and gives her ballerina panties. To watch my mother and daughter together is one of the most precious, comforting sights for these eyes. It is so healing for me. My parents gave birth to me much later in their lives, and I was the last little bit of baby-ness for them, after parenting 6 others. And now my daughter gets the purest form of my mother who was made to mother; the refined woman that she is; the fun-loving wise sprite that dwells in her heart; the woman who dances at Nordstroms (or tries to) to the painist who plays showtunes on the second floor. She is the woman who looks fresher and brighter and more connected to a source of love and peace the older she gets. Age is truly being good to her. I only hope that runs in the genes.

A Good Tree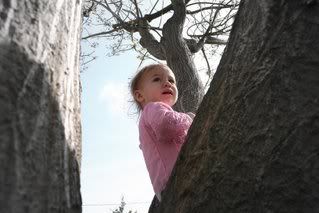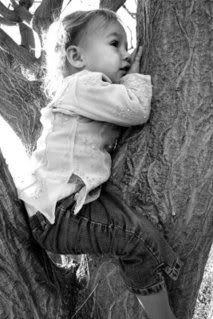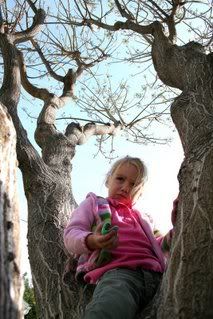 There is this awesome tree in my sisters front yard. It has branches growing up like air-roots. It's skin is weathered, rough and strong. not sure what kind of tree it is…perhaps a female Olive, but I am bad at tree-naming unless it's a maple or a pine or a willow or an oak. There are a million places to sit, stand and jump from this tree. The ultimate climbing tree. All kids need a tree like this to love. Sula and Mia played in it all morning long. I wonder how many kids (beside the ones in may family) have received joy from this tree?

2 Fairies and A Buddha in Los Feliz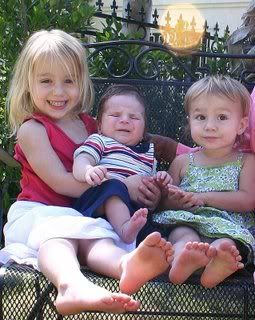 This is the girls with their new heart throb Emilio Lyon Stuart Alban. He really, really rocks it. I think that Sula has a serious thing for him, and I don't blame her. He's handsome, peaceful, mellow and so smushy he's may be edible. I can't believe what wisdom and grace surround this little boy. I swear I was in the presence of a great one, someone who wanted to teach me something. But of course I am too dense to know what. Until I figure it out though, I will remember him at this age, the first time I got to lay eyes on him and think, "how can such a little body hold such grand brilliance?" Welcome to this world little man, you are indeed a good friend.
Courtney and Me.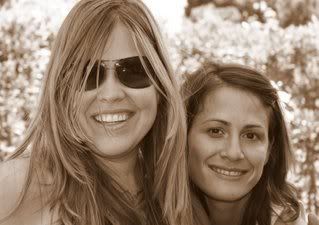 This is Emilio's Mama, Courtney: Birth Warrior, Artistic Explosion, Gentle Mama. She is a brilliant, forward-thinking, kind sister of mine. We've seen eachother though hills and valleys and I feel her friendship deeply in my heart. Her and I and another friend caravaned across a few states driving 3 different cars, a couple of boyfriends and 1 black lab and landed in Hollywood together back in 1997. We got rid of the boys. Age recently took old Puck, the dog, bless his soul. But Courtney and me…we've been watered with time, cultivated and flourished in the form of patience and adventure; creativity and simplicity. Respect. Her sense of humor always pulls me back in my own body, reminding me to stay light. I could sit outside against a snowy rocky mountain with her in or out on her back deck until the wee-hours and talk about the world, jumping back and forth from poverty to fashion, politics to mothering, music to yoga. She a great story-teller capturing me with her words as well as the colors and shapes and soul and textures of people around the world she snaps with her magical camera. I love her and we all got to stay at her royal abode on Los Feliz Blvd. this trip. Couldn't ask for anything more, especially since she lives walking distance to my favorite old market, Nature's Mart. Plus I got to wake up seeing the face of her newborn. What a true gift.
My Hommies.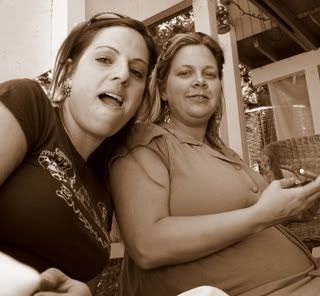 These are my homegirls. I can't quite put my finger on why we have such a strong sisterhood hood, but let me try. When I see rebecca's face and that big smile, my whole word explodes with a rare kind of hope and excitement. She is raw and honest and sweet like the cupcakes we share. The first time I met rebecca we were in Fredonia, NY at her college apartment. I was visiting Leigh Ann. She walks in with bellbottom cords, a dreadlock in the back of her thick, shiny, to-die-for hair, ruby red lips and dark lined eyes. She saunters, and I mean saunters over to me in a way only an amazingly sexy 19 year old could do and says, "wanna get high" (pot, my friends). And I fell in love with her. In my lovesick kind of way, I hoped that we could be friends forever. And we are. Leigh Ann, the blossoming beauty is the one who shared her with me and I am so grateful that she did that. Rebecca hosted the blessing at her pad atop Mt. Washington, which vibrates with the daily meditation of about 100 nuns and monks from the Self Realization Center down the street from her. It was perfect.
My Wild Chamomile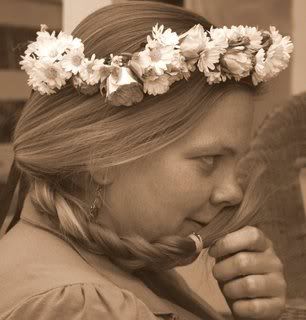 My heart. My bestest girl in the world. I watch you get bigger, not just with baby, but with spirit, with this boundless, positive, elastically ecstatic spirit. You, my friend are surrounded by the color pink. A shade of rose. And this baby you hold inside is magic, wellness, health, joy. I have always seen you as a mother, a grand nurturer; you always made sure I was safe and happy. You, more than anyone else, watched me go down to the deepest and murkiest waters and you watched me soar with the eagles in lighted power. And never once did you judge me in either place. Now, I didn't say you never told me exactly what was on your mind…because most of the time that is a true gift of yours, to just let it all out. But other times, I see the wisdom you possess close inside to keep quiet when you don't see the need for mere words. Confrontation and debate is not your thing, instead you are Balance. And you are the perfect scale for me. For your husband. For your children. You see both ends, both sides and you weigh them, examine them, and feel them. You become the middle ground which becomes relief and support and a path to greater understanding for those around you. You are whispy and wild. Kind and sassy. Cherokee and free. This life has blessed me with you. Without your pink light (any other time when you are not holding a baby within, your light is ever so lightly yellow, like a buttercup) I would be blind, alone, lost. You have been a key for me to find me. You have been a road for me to follow. You have been like a sign, displaying subtle yet poetic sensibilities about my next turn and twist and climb. And although I may not be there with you for this babylove number 2 to emerge fluidly and gently from you, I am so there, breathing, rubbing, singing, smiling and cracking ridiculous jokes. I am so there while the shower water pounds like a storm on your back opening up every cell of your body. I am so there to stand as a guard and shield of empowerment while you wisely and powerfully give birth to your baby. You are giver of life. A birth goddess. I love that you say, "What's the big deal? People have babies." I love that you walk into a hospital and do. it. your. way. I love that you will soon have 2 kids like me. I love that you and I have held hands since we were 11. I love that we know exactly where eachother come from. I love that we share exactly who we hope to grow into. I love that you are so softly beautiful. I love your hands. I love that you humor me when I act crazy. I love that our daughters will be best friends forever. And most of all, I just utterly love you.
East Coast Baby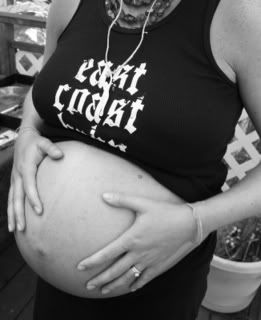 This is Ruby Malin Ferguson in her cocoon. But Ruby came out of her mama, the bubble of fresh beauty, Joelin, a couple days ago. I just missed her arrival, and haven't seen a photo yet….but if she is anything like her mama and her daddy, Andy, she is super-duper-dope. I mean super-duper. Ruby, can I tell you how amazing your mama is? When I saw her with you in her belly, despite that you were about to come out any second, she was so comfy and cozy and at ease with herself and you. She was so at peace with labor flashing it's 'big heavy stuff coming up ahead" lights in front of her, for the very first time. Her confidence and inner-knowing impressed me beyond belief. i remember how freaked out I was before I gave birth to Mia. But not your mama. She was cool as a cucumber and as smooth and vanilla pudding. Oh, and did I mention she is outrageously beautiful? Definitely a MILF. And your dad? How many kids can say their daddy is an acrobat? Super-super dope. Can't wait to meet you Ruby, little rockin' East Coast Baby Gal living on the West side now.
The Circle
Our tight and loving circle of blessing and community. Relaxed. Easy like Sunday afternoon with bree and fruit and white wine. Wise as ring of ancient storytellers sharing their chapters of life with Leigh Ann. It was all free-form and because it was so small, it was so comforting to just gab away, bless away, laugh away…all the worries and stress and rejoice in new life, old friends, and a baby who is soon to come and be yet another teacher of the way of light and love.
Just Because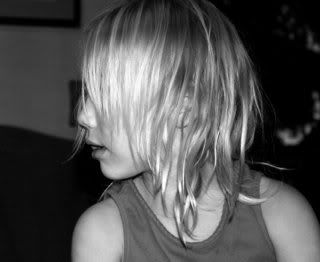 Just because this careless shot of Mia reminds me so much of me. She stills my heart and quiets my mind and guarentees for me endlessness in a world with no guarantees.
(Los Angeles, I refuse to come back to you. But won't you just think about coming to me?)