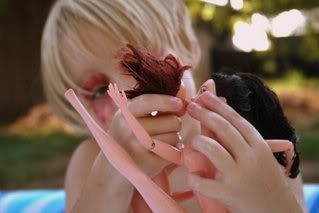 It's been four years. That morning the heat finally broke in L.A. The air still thick, but thick with fog and dew instead of warmth and sun, and you were born. I remember I held you so tight, raw skin to skin, massaging your back willing you to take a big breath and your daddy and I whispered to you over and over again, We've been waiting forever for you, baby, we love you.
I guess that's why it doesn't seem like a mere four years. It's seems like forever. And because I believe life never stops, the body may die and our blood may dry-out and our bones crumble, the breath of life has been blown into us by the wind. The vibration of creation is the sound our soul makes, and sound is immortal, as you and I will always be. We take on the Universe, twisting and turning and leaping into different planes of reality, and in this one, my beautiful smooth and thorny vision from the soil, I am your mama. So do not fret over mama dying; something you have been asking me about here and there these past few weeks, with a tear in your eye, I see that you are uncovering that you are part of this life and you question it, along with the rest of us. I don't want mama to die and leave, you beg. Just as there truly is no real birth, no real life, there is no real death. We are just dreamers, living this dream. We will continue to dream on together. This I can promise. If you ever get lost or it becomes a nightmare, just meet me at the bright star between Scorpio and Sagittarius…you know the one where the sparkly purple and aqua unicorn hangs out. I'll be there waiting for you.
You are four now, big, bright girl, and things are shifting.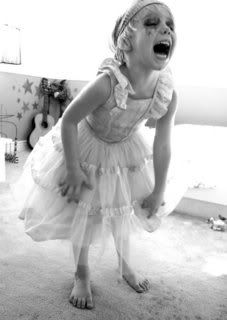 Lately I have been questioning my ability to mother you. I alternate from feeling empowered to feeling like I failed. This happens about 10 times a day. I rise and fall, rise and fall. I will start off this new-year with you explaining why this is happening. I am strong-willed. A powerful woman who usually never doubts myself or does a double take of the roads I walk down. I have never listened to anyone who tried to get me to follow their game plan or rules. I will admit, I have spent much of my life as rebel with a cause. And then along came you and shook my world all crazy. You are strong willed, a powerful girl-child who never doubts herself and chooses not to follow another's game plan. You make your own rules and explore this world in your own perfect way, usually naked and smeared with paint. We mirror each other quite a bit. And so we are close, closer than I thought I could be to another. Sometimes I think you are the small child inside of me and this is my opportunity to heal karma by letting you be totally free and uninhibited and this is such a wonderful thought. And regardless of how much alike we really are at the core, at the same time, we can struggle, a game of tug o war we play. This is not something I am proud of. I just walk my path (with your best interests in mind, so I think), you walk yours and we although we refuse to walk separate from each other, we refuse to switch paths. My aim is to get us on the same path every morning; not mine or yours, but one that we both can find joy while traveling. I think I know what is best for you. But in the end, you know what is best for you. I trust that, wise one. Unique one. Wild one. Messy-haired, always dancing to the beats one.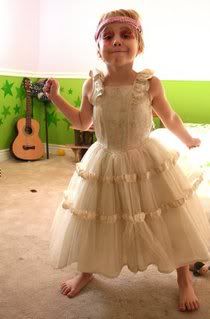 I look back on this year with you and the changes that happened make suck in my breath in awe. Last year at this time, you were just learning to connect with meanings; life, people, words, vibrations, and now you think you are the meaning of life, you are BIGGER than life, proving that you are ruler of your domain. Last year you were still my baby, far from unattached to me, still trying to pull my shirt down and hold my breasts. This year you are big girl, looking at me so many times a day and saying Maaaaaa, leave me be, I can do this on my own! Your independence is refreshing. It reminds me of all I can do without validation or permission. You are so curious about everything and ask questions constantly about how things works or why things are the way they are. I am learning how to ask you more and more questions in return rather than give you answers. I want you to explore and discover on your own. While we drive it's a stream of Mia's voice chattering on… How can the refrigerator stay so cold? Where does the water go when we flush? How do you make a bathing suit? Who made our car? How does it work? Why does the moon follow me? Why do I get scabs and why do I like to pick them? Why is my hole so tiny and my poopoo so big? Why do people throw-up? Is someone singing inside the radio or are they in a studio?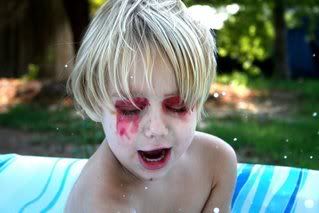 The Libra in you can perform the most amazing balancing act. Just look at who how perfectly split you are between princess diva and wicked extreme girl, willing to get filthy dirty and climb anything high and rugged and jump without a second thought. I love it when I see you wandering around the yard in a frilly dress, tiara and rain boots digging for worms with a stick (not many worms in our desert ground, but soon my love, you will be running from rainy day worms) or holding your fathers tools and designing the perfect house. Yesterday at your little birthday party, you went over to the stereo and turned up the volume and said, okay guys are you ready to rock? And then proceeded to count and-a- 1.2.3.4.5.6.7.8. in perfect timing from when the introduction started and the song began. I went over to you later and asked you what song you were rocking to. You sighed, The new White Stripes, mama, White Stripes. Like, really, how could I not recognize what Rolling Stone called "the greatest rock band ever". I do not deserve to rock with you, Mia. Never had. Never will. You spend your days making up songs as you go along, Maple tree! dumdedumdum! Maple tree! dumdumdedum. Birdies! Let's go and sing! Birdies let's go and sing! Let's get syrup from the maple tree! Dumdedumdrum! Or my favorite kind, in your soprano voice: I love you sun, I love you moon, I love my world, I love all the people, I love sugar and I love my dogs, too. We got the flowers, we got the flowers, when the flowers turn green, they love eachother! We water them, we water them with everything and they fly upon the leaves! Ahhhhhhhhhhhh! The best way to reach you has always been through song. If I need you to do something, all I need to do is put it to a song and you will move right along. Let's go Mia, dance, dance, pick up your bottom and prance, prance, time to leave the library/store/house and go somewhere else, dance, dance, ALALALALALALALALALALALA. Unfortunately, my voice sucks.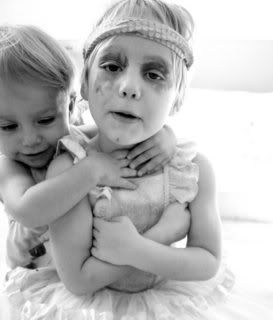 And speaking of rocking, your world for the first time is rocking, like a boat, not a beat. I never thought I would see my little one stress at such an early age, but everything you have known, everything you remember and connect to is about to change. You are moving, my love, moving to another house, another state, another eco-system. And this is hard on you. I am trying with all my might and love and compassion to gently guide you through this transition. You share mixed emotions. You hear your dada and I speak of how much this move will help our lives, help us raise you consciously in a more natural and community-oriented environment. You are excited to get a boat, sail with dada, go watch Orca Whales and play in the snow on Mt. Baker. Your eyes light up when I say we can have picnics on the sand, at the beach, anytime you want. And on the other hand, you are petrified, my love. Scared outta your freakin' mind. And I understand this. Home is home, and this home is the only one you remember. You first home was a wee little apartment in a big crazy city, but you left that before you were a year old. Since then, here has been home: Your lime green and lilac room, painted with stars and moons; the corner in your house where you will sit for hours leafing through books or doodling in a notebook or playing with your horse, the beloved Chamomile; your favorite Chestnut Park, just a walk up the street; your beloved library where we spend whole hot afternoons, digging through books and cuddling on the over-sized stuff bear claw/chair and reading until my throat is sore; your local coffee shop which makes chocolate milk just the right way for you with lots of cream; your friends, all the little ones who have grown with you, the ones you have learned to share with and how to be a gentle and kind friend to (which you so very much are); and more than anything, your family, your little cousin Sophie who has been a big sister to you, guiding you, loving you, sharing her fabulous wardrobe with you and other things that make me cringe…like Toaster Strudel, teaching you about makeup and the songstress, Hannah Montana…regardless of all that, leaving her is the saddest thing in your little mind. Will Sophie come visit me? And Tommy and Kristi and Benny and Anthony, too? Yes, my love, your family will all come visit you. Nobody can stay away from your magnitude, your attitude, your bright and shiny aura. They love you so much and will miss you as much as you will miss them. And when we get sick of the rain, we get to come here and be with them and soak up the desert sun for little holidays.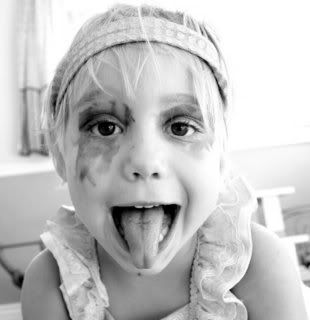 We are moving for you, Mia. For you and your sister and your new little baby. It may be hard to imagine and we can't even explain it but this is for you. We want to give you more than what we have here (not more stuff, actually less stuff). We want to give you a home, a place where someday when you get stressed or scared or need release; you don't oppress it or fear it or shop it away on junk; instead you go climb a mountain and get to the top and sit still and listen to the wind. Or to run on the beach and collapse in the sand and feel Mama Earth cradle you and let you know you are supported; provided for. This is the kind of life we want you to have. Where we are now, it's hard to even see the moon from our backyard.
You can do everything and anything. Write your name. Write mama's name. Draw the most amazing pieces of art of whales, and giraffes, and dinosaurs, and ghosts and cakes and my favorites are when you draw pictures of the baby in mama's belly. It's always a lumpy circle enclosing a spiral that has a line (the cord) attached to it. It's quite breathtaking. You are in love with your little baby now. For a long time, you didn't want to admit we were having another, but now, you curl up against my belly and whisper, hi baby, it's your big sister, Mia, and I love you. Are you cozy and warm, baby? You still claim you want to be in your own room, hiding under covers, when the baby comes out, but I get the feeling your curiosity will bring you to where mama and dada are. And the offer still stands: big sister gets to cut the cord. And yes, baby may be bloody, but baby might be just a creamy white, like you and your sister where.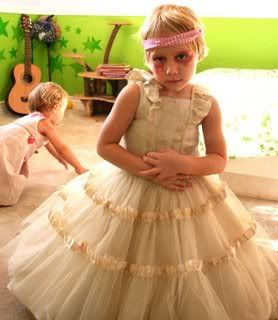 This morning at our Birthday breakfast for you I told you that you were old enough now to pick your Spirit Animal.
Your spirit animal is your guide whenever you feel sad or nervous or scared and angry. Your Spirit Animal is right by you and you can call it to come help you when you need it. So, think about it and then tell me what your spirit animal is.
You sipped cocoa slowly for a bit, it dripped down your chin, and you chewed your inner lip like you always do in deep thought. Sula spilled her cocoa, but you didn't even flinch, you kept thinking.

Finally you put the cup down carefully, wiped your mouth and looked at me with a smile.
My spirit animal is a giraffe! A very small giraffe
A giraffe? Awesome! What is your giraffe's name?
Sarah. Her name is Sarah and she lives in my heart. You pat your heart and closed your eyes.

I think that sounds perfect. You smiled big at me. Picked up your cocoa and sipped away.
I love you. I love this person, little-big person you are becoming, or always have been, but just slowly revealing. You are sensitive, my love. You heart is gushy and soft. And even though you act like a tough girl sometimes, you are as soft as a cloud. My wish for you is that you surround yourself with people who respect and understand that light and airy softness and celebrate you, for who you are, smooth petal-like, yet as rugged as they come. The more and more I grow with you the more I am learning how careful I need to be not to squash your soft side. Many things make you collapse in tears and scream in opposition. And I am seeing now that this is not ill-behavior but instead your soft side feeling stress and instead of discipline, you need love, lots and lots of love. And girl, loving you makes me a better person. Thank you.

Happy Day. Happy Year. My big girl. My big girl with short, sassy hair that you cut all by yourself. I could love nobody more. Ever. I breathe in every moment and smell the miracle of you. How did all this happen? I am a lucky woman.


Bless up,
Mama