On Sunday we all woke up in this bed with the sun shining in through the windows.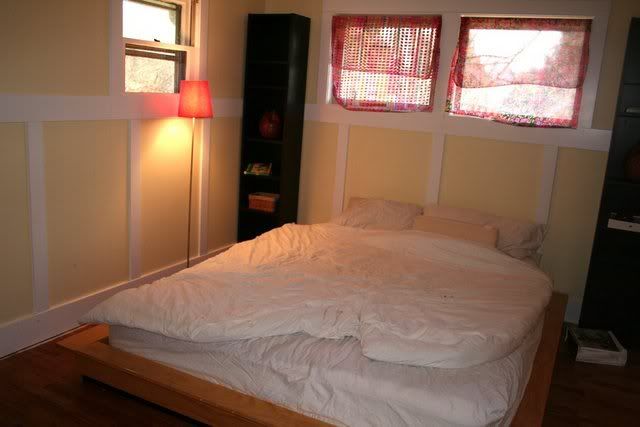 It seems as if every couple days the sun surprises us, reminds us that all that talk of dreariness perhaps was not as extreme as we envisioned it. Still though, we take the sun shining in and the autumnal crisp air as a sign to explore, to strap on our walking shoes and examine all the nooks and crannies of our new town. I suppose sooner or later winter will hit and the rain will come and the dark will take over and we'll all seriously hibernate. But today we expose ourselves to the light. We walk the inter-urban trail to a part of town, considered Old Bellingham, aka, Fairhaven. It's about 1 mile to the path from our house, then another 2 miles on the trail, which travels right along the bay.

First, eat pancakes. Made with buttermilk by the hand's of our man. Butter melted and real maple syrup soaking in the yeasty goodness.
Like most mornings, we have our ritualistic dance party (since Mia does this in the nude, I will have to keep most of the good photos from ya'll). Not sure if Dada is bloated with impressions of Mama's belly or showing the girls what it's like when you eat a bit too much stuffing on Thanksgiving. All I know is he can make his belly look big, but mine is big.
We are finally ready to go. This takes a long time. The girls struggle with us about putting socks and shoes one, hats and coats. These desert babies are not quite sure about all the layers. It's pretty funny, in Arizona they'd wake up and put on long undies, mittens and hats and want to go to the store dressed like that in the middle of July. Here they try to wear their bathing suits out.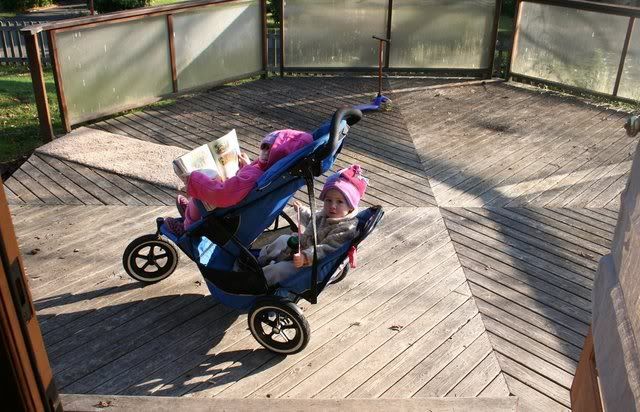 Bye bye house.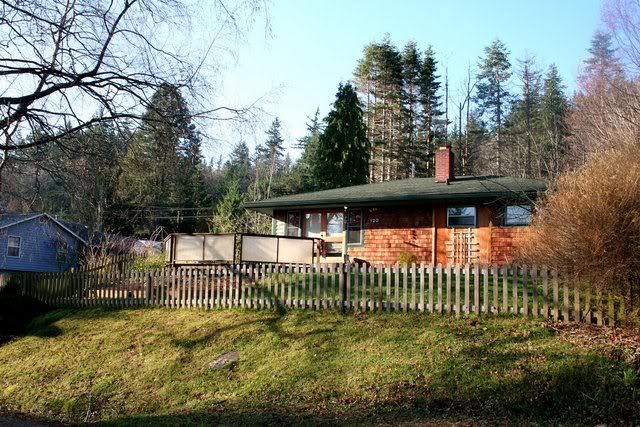 This is the few from my street. Notice the awesome chicken coop in the yard of these folks. Most of the time their chickens are just wandering around though. Luckily we didn't have the dogs with us; they are made for chicken torment. It's a pretty nice view of downtown Bellingham from up here where we live. I love it at night, all sparkly, yet not a crazy sea of overwhelming sparkle like L.A. used to look like from the hills. It's just the right size. Pretty soon I am going to be able to roll down the hill with this insanely large belly and I'll need a truck to push me back up.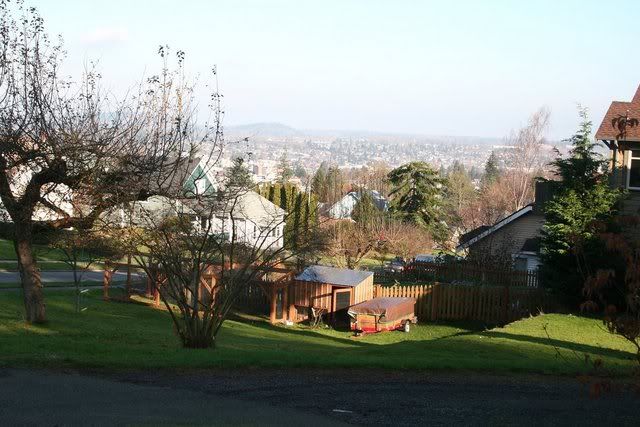 We stop at the co-op for a juice and some tea but forgot to take the camera out. A few minutes later we near the bike path, but one of my favorite spot in town is the Community Bike Shop. It's like a bike grave yard, yet with endless potential of creating the ultimate bike for your specific crusin' needs. You just go there and pick out the pieces you want (double bike, triple bike..crazy carriers attached to the bike, you dream it up, you can create it there) and then someone will put it together for you. I can just see us with a triple bike and baby in a some welded seat on the handlebars. Watch out…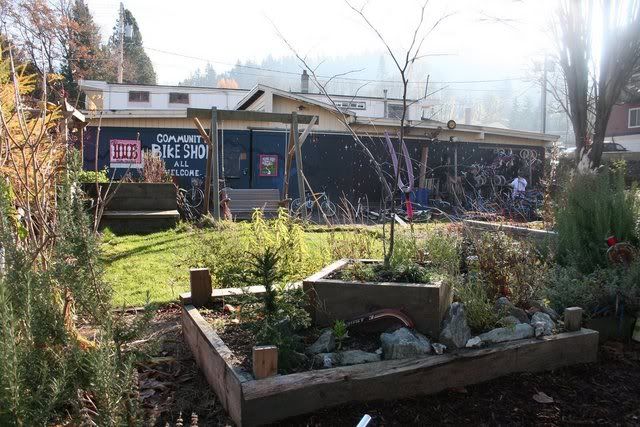 Finally we get on the path. It's a tunnel of green. Dying blackberry bramble and fluffy seed pods spread like seafoam atop ferms, which grow like feathery hair from the earth. TIt's vibrant and spooky and feminine. The moisture feels so fertile, bursting with potential of pure unadultered life. For the first time I can sit still, breath, know my path is unfolding, just like this paved one. I am in no rush. As I wait, I just walk and observe.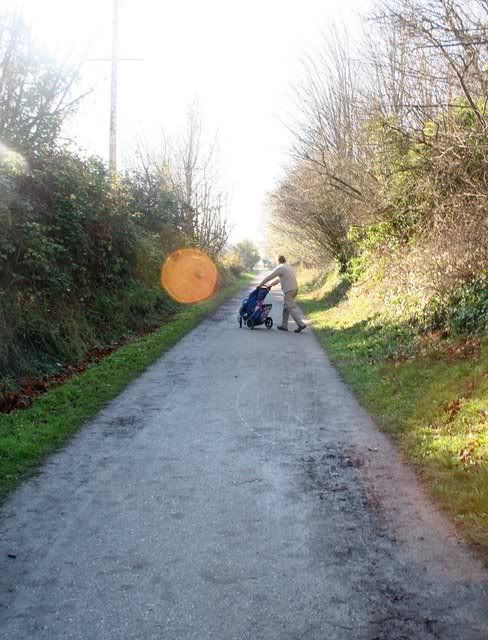 SOme views from the path…
This scenery may not mean a lot to some people. I suppose this world is so beautiful and breathtaking that a lot of people get to wake up and see watery joy and brilliant landscape. I am not unique in this way. And I suppose some people loved the urban desert's landscape, too. I think of my friends in Paris, Mailbu, Colorado, Wyoming, Hawaii and Thailand, and this could be a joke of beauty for them. But for me, this is quite a shift into haven. I have been living in huge cities for the past 10 years, the last one being very hot and brown and it's unplanned concrete sprawl nowhere near the ocean. This new landscape is the change I needed, I may take it for granted one day, but for now I give great thanks. Less than 2 miles from my house, I am at the water looking at sailboats, talking with B about when we should get one, enjoying the salt air clean out my lungs. I am in love and I am alive.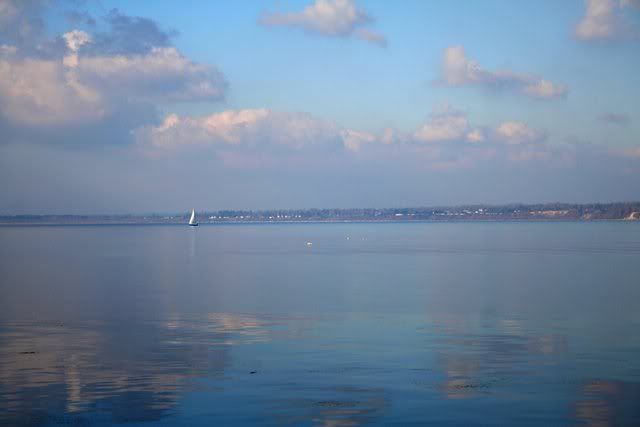 Our first stop is this cool park. It's playground is like a pirate ship and the girls love it. Right next to it, hanging above the water, is a little coffeeshop. We get them steamers with a bit of chocolate. They run some energy out.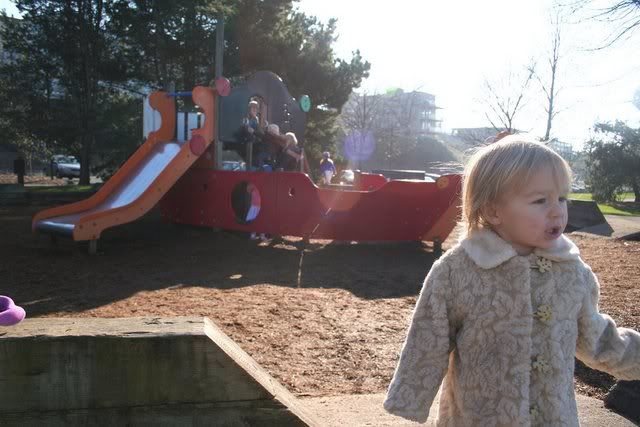 Coffee shop, which only gets a 4 on B's 1-10 scale for tasty Americanos. He has a punch card for pretty much every indie coffee house in the city and likes to rate them on a scale.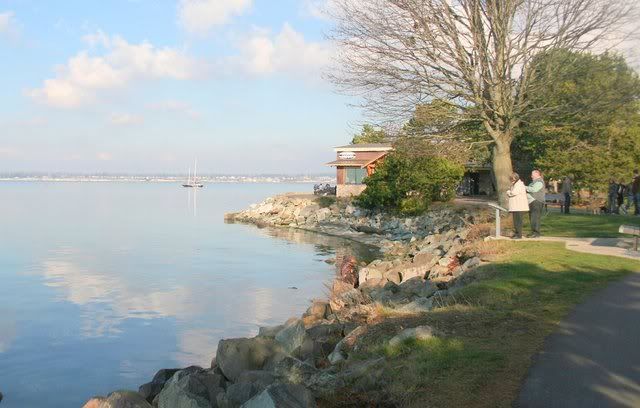 Finally we approach the bridge that takes us across and into Fairhaven.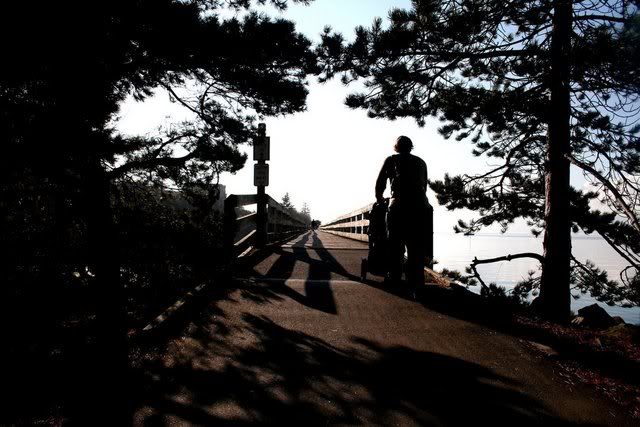 There is this little beach right off the bridge that Mia loves. There are some bay side boulders she can climb unto and feel her power; the sand is covered with soft and colorful sea glass and we fill our pockets. And the wood sticking out of the water reminds her of her beloved movie, Surf's Up. She calls this spot The Bone Yard, and her adventures on this little piece of beach have been limitless. I put the camera down to play with her here, there is no way I can forget how she turns into a fisherwoman- princess-pirate, lost in the Bone Yard, waiting for her father's ship to come and find her….

Here is a photo of the Bone Yard after we pass it.
We finally climb the pier and are almost in Fairhaven, ready for some lunch. This shot is of big belly mama and her adoring firstborn. I just can't get over the belly. Now, keep in mind, I am layered a bit here and we are quite sure baby has been assuming Downward Dog or Warrior 3 pose in utero for the past week, so it does go down a bit here and there but all and all, it's huge. Sticks straight out and is as solid as a rock. Massive. Big Bad Massive Belly. Air horns sound when I walk past. People jump out of the way. And I am only 32 weeks. Yikes.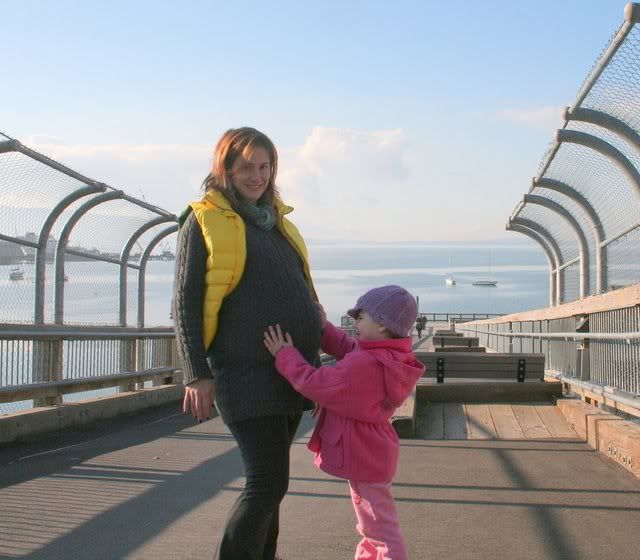 DANCEBREAK. Break dancing girls.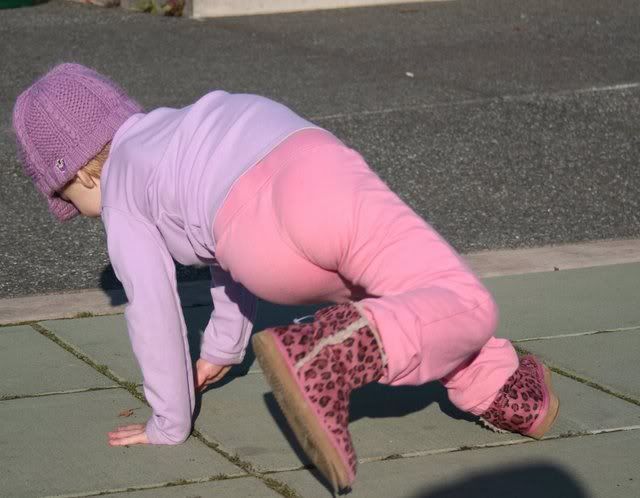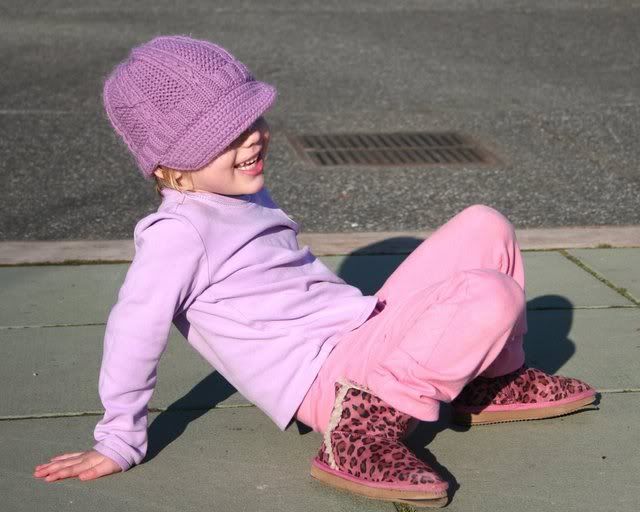 We finally enter Fairhaven. It's old, the buildings turn of the century, brick and full of that little city charm. Full of good food, local shopping heaven and bookshops, it attracks people and the steets are sprinkled with Sunday walkers. It's a bit she-she, not as under-belly as Bellingham where I live; there are some shady characters wandering the streets (not scary shady, just shady) and if you squint your eyes past all the clean and green and political progressiveness, you'll see a bit of grim (which I alway find sexy, can't have anything too perfect or it's a bore). But Fairhaven is slightly different, real estate prices are higher, the storefronts obviously beckon a different socio-economic bracket. There is a pet boutique there, get my drift? Still, it's a lovely place to wander on a Sunday. Especially since most of the goods in the shops are made locally. I just love that.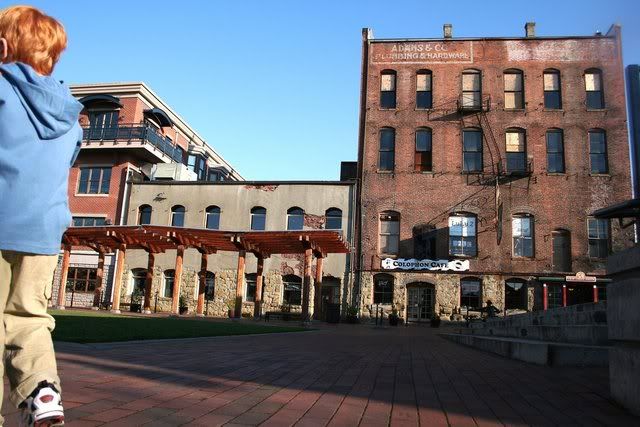 And then we eat at Avenue Bread, where the bread melts in your mouth like butter. I have tomato soup blended with cream and basil and garlic. It fills us up, ready to head to the fabulous toy store right next to the cafe (which i have no photos of…I was busy playing!)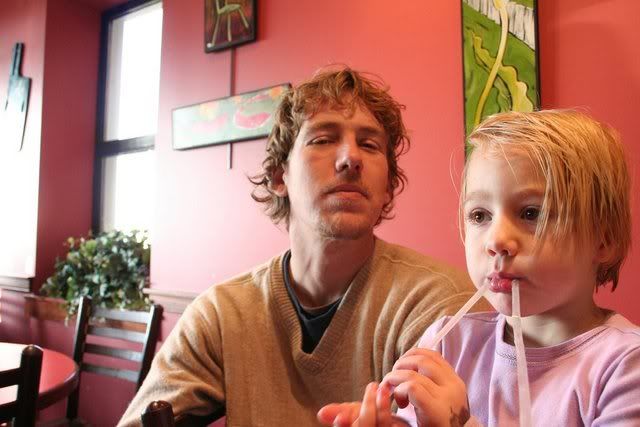 (notice the grease content of Mia's hair in the above photo. The night before my friend Kalayne did a belly cast on me. The girls helped her of coure, and they certainly enjoyed the vaseline-like lube that was laying out, too. Mia used it as hair gel and that shit just doesn't come out.)
This one conked out right after the toystore.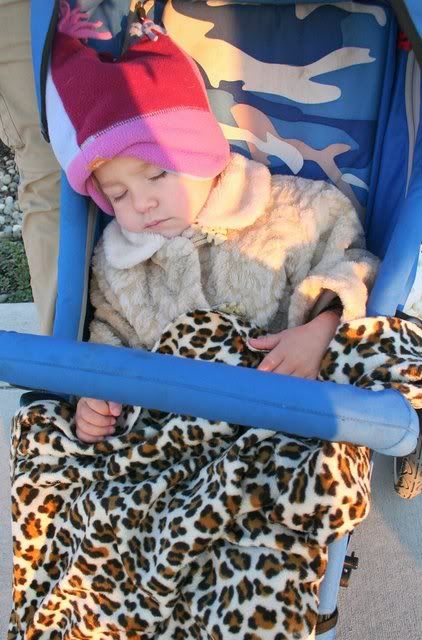 Time to go home…