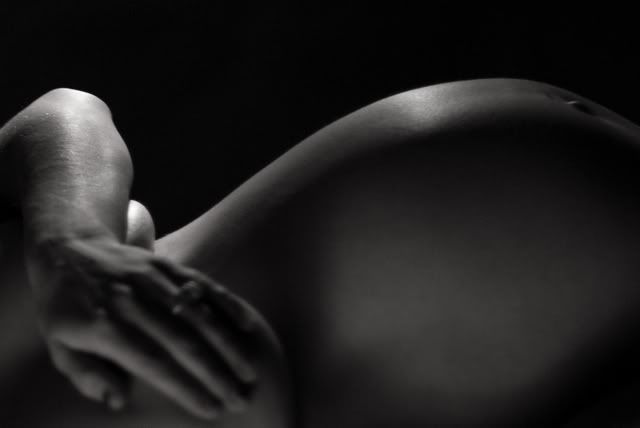 What I have been thinking about most is that I am going to be the mother of three people. And my visions vacillate.
In one, I am a super-mama; Sula on my back in the ergo, baby wrapped tightly in front with my Moby, Mia holding my hand as we hike the trails that spread like veins all over the hills behind my house. I am back to my pre-baby weight in a flash, dining on vegan soups and homemade breads and fresh pheasant my husband brings home from the hunt. We have a seamless routine; mornings are such fun, ritualistic, and consistent. We wake with a smile, we read, we sing and dance, we eat, we dress, we brush, we errand and go to school. Afternoons are sleepy, nappy and crafty; laundry and dishes and organizing. Maybe even a sitter comes over and allows me to nap or write for my fabulous freelancing work or get a haircut and color. Evenings are warm and smooth; imagination play, cooking, rolling on the floor with kids, eating, calming down, singing, bathing, massaging and ahhhh, what a day…fast to sleep. And then my man and I have time and energy to make incredible love until we both burst with ecstacy.
Ha.
And then the other, I am on the couch, in five day old clothes. Three kids are screaming, two need a diaper change and the other is bleeding from an unidentifiable wound. I am crying or yelling or yelling and crying. I am ugly and old. My stomach flab hangs to my knees and I can smell the sticky sweat that clings to my fleshy creases. I can't get anywhere or do anything because I can't figure out how to get them all fed and dressed and buckled in a car. I pop open the Pinot Noir by noon and finish it by 2pm. I have taken up smoking American Spirits by the pack, sneaking into the laundry room to suck down the nicotine. My man comes home to find me half-passed out, drooling red-wine saliva from my mouth onto the couch cushion. Mia and Sula are playing with knifes and the baby is covered in spit up.
Both of these, of course rock the opposite ends of my pendulum, and I know that it will be somewhere in between, but I just can't see it. I can't see how it will all pan out. I can't figure out how I am supposed to feel about not knowing. And this makes me grumpy. And scared. I want to know now what it's going to be like so I can prepare. Preparation seems to be the magic word at this stage in the pregnancy. Who knows what I feel so urgent to prepare for, besides a baby coming out, what else is there to do that can't really wait? Yet that pending sensation that so much has to be done or else I will just totally fail at the birth and beyond can take over my whole body. I become paralyzed with fear. The What If's and I'll Nevers and The No Way In Hells take me prisoner. I'll admit, I will have long hours of the days where I struggle with severe fear and depression because I am just not sure how I can ever do this, how I can be a decent parent to what seems like so many. And this fear takes me elsewhere, certainly not living in the now, with my kids. I yell, I complain, I mope. I don't remember signing up for this when I forgo birth control. I thought things would be neater, more organized, happy and cute, all finger-painting and organic gardens. But instead, I am scared. Shitless. And on top of it all I am in a new place surrounded by vast space I haven't explored yet, because I am so very pregnant. And that is all my body will allow me to be.
But I remind myself. The flip-side of fear and darkness is self-discovery. I try not to beat myself up in these dark moments before the birthing light. I try to explore that path of discovery. What can I learn? How can the sensations of my shoulders to my ears and my heart tense and tight lead me to realization?
And it starts with a smile. And an intentional thought about the shifting family dynamic. And get all excited. Because I love all three of them so much, and I see them all in a row, smiling or crying or sleeping across our big bed and my heart melts like ice under sun. Who cares how it pans out? I can only hope for the best, right? I can't figure it all out now. Perhaps I never will. I can only allow it to happen. Some days I won't get off the couch. Some days I will. Some days I will drink wine because who says I can't? Some days I will "go ape" (as B and Mia call it when I get a bit loud around the house) from lack of sleep and lack of personal space. But other times I'll just breathe it all in and out I will be the willow in the wind and bend to the challenge. Some days I will be pained with the weight of three humans on me, and others I will feel light, a whooping crane in flight, owning the sky.
And then again, hasn't it always been this way, my life that is? The future has always been a mystery, the unknown frightening and exciting. For years I have read and been told and have told myself to just stay in the present, which is still a twisty and turny mountain road. Sometimes I get stuck and I sit and have no choice but to smell the same sage bush all day (and if I stay present in my stagnancy, the smell of the bush will stay with me forever). Sometimes the view from the present is wildly vast and birds-eye because I have traveled effortless despite the steep and dusty switchback. Some days it barely feels like I am working on the journey, the slope downward just carries me along.
And there seem to be many, many days where I fall so flat on my face, I trip on stones and tree roots and even though I am moving, I am miserable. Even in the present, but mostly this happens when my eyes are behind me or far ahead of me, not noticing the simple movement of one foot at a time. The abrasions I get are impossible to cover-up and sometimes they take a long time to heal. But they do. Eventually.
***
I have given up the bedtime struggle. They climb in bed with us at some point every night, never earlier than 4am, but never later than 6am. I have been on a mission to stop this. I have really tried to force them/convince them to go back into their own bed, and when that becomes too loud and crazy, both of them crying for my body to snuggle against (Sula more than Mia), we do everything to figure how to keep them away from me, and get them both to settle on the opposite side of B. Somehow I thought this was necessary and that is was the time was now to create my own little space on the bed, with room to wrap my arm around the empty spot a little baby will soon sleep. My mind kept repeating the same thing: a baby will be next to me, there will be no room for them to envelope me in like this. They can't be here anymore. I have to stop this. And this was sad, but my mind reminded me it was the evolution of the family. And in consciously stopping this semi-co-sleeping, we endured middle of the night tears and tantrums, heart-ache and loss of sleep. And in the morning we all woke exhausted. This has been happening for months.
And finally, my mind snapped and my heart space won over. I had to release the control and say fuck it. It became obvious trying to change what was happening wasn't good for any of us. I was trying to change our story when the page hadn't turned yet. Baby isn't here yet. So now I let them come in and cuddle me. Sometimes I ask one of them if they would lie on the other side of B and sometimes I let them both on either side of me. Sometimes it goes smoothly, sometimes not. But I tell them honestly, Mama's gonna enjoy sleeping so close to you now, because when the baby comes, she is going to need more room. The baby is going to be lying right next to her. But until then, snuggle on in. In a few more moons you will have stay in your own bed, or we can set up a bed on the floor here. And dada is always here to cuddle you when you need it. And I think they get it. I think they are trying to get their last taste in before everything really changes. I have decided that's what I would like to do, too. I remind myself to savor the last moments of it just being me and my two girls and really, I want to be in that place. And so who says this is the time to wean them from me? Who says with patience and honesty it just won't happen, somehow, organically? In its own time. They have grown so fast, so big. Why do I always fall back on the rush? Everything else happens on it's own. Why not this?
***
We all talk a lot of hoopla over the word Surrender. We use it to suggest (or direct and advise) in pregnancy and birth, in mothering and in life in general. But what does it mean? To just "let go"? This is another widely used phrase (one of my man's favorites) that when I think of it I think of myself free-falling and out of control, although in a Zen style it means to 'not cling'. To give in? No. To me that means to release your needs and attach to another set. I have been struggling with the age old/new age rhetoric that we throw around. Surrender. I guess my definition, or the closest thing I can come up with is to accept with an open heart, to feel emotion and live situations, experiencing it wholly yet without clinging. That means that even in the change, or the action, to surrender to the motions, the sensations, not judging, not being right or wrong, just living it, not detached, but unattached. I have to live these feelings I am having; teetering on the edge of having two girls and another person coming into our world. I have to live the feeling of not knowing if it will be easy or hard, exhausting or energizing. Everyday I have to live it. It's my choice of how I perceive it.
Did any of that sound convincing? I talk a good talk. I am not saying I am fraudulent, pretending I am someone I am not. But my writing heart sometimes takes me to places of therapy, sometimes I believe what I write and I love it. Sometimes, like right now, I gotta come clean.
This dark tunnel, this lead blanket of blackness that holds me in this place is real. I am tired, emotionally. I walk with my headspace in a blur. I think of death, but more I think of life and how hard it can be. I think of the tangible pain my yoni might feel as it opens for a baby to stretch through (I say might because there is a great part of me that sincerely believes that I can mutate that energy into something wonderful and sensual and pleasurable). There is great doubt I will be able to survive this mothering experience, this moving experience, this marriage experience. I am in a hole. No hands can pull me up.
My man opens his lap for me to bury my face in and sob. He lets me feel this. And that feels better. He brings home a pint of ice cream. That feels good, too. When I tell him that it has been a decade since I have felt this low, he reminds me the last few weeks of pregnancy with Mia and Sula I said the exact same thing, which is: I feel like I need to be committed.
The reality of all this is, regardless of my spiritual practices, is that in essence my walk to labor and through to the other side to mother is more than hard. It's fucking intense. It hurts. I feel like every last part of me is being cracked open and exposed to raw and bloody truth. And I am one of the lucky ones. I am loved, not alone, and birthing in a safe environment. And yet, it still feels like the biggest risk I can ever take. This journey should be honored, revered. Mothers and mothers to be everywhere should know that they are not alone, that we all initiate each other on this path. I extend this experience out to everybody who also feels it; you are not alone. It is real. And it is okay. Feel it. We are meant to feel this intensity. It prepars us for something grand and mystical.
And Baby stirs inside. Its body shifts and I imagine it trying to find it's perfect position, knowing the time to travel down is soon An elbow jabs me and it feels really good against my skin. A bottom presses against my stomach and I imagine a big old stretch happening in my womb. There are hiccups. There is a pleasure with this baby's movements. They arouse me in the most innocent way, makes me want to get up and dance, to spiral my hips and lift my knees or to lie on the wet dirt and feel it against my skin. And so above it all…there is a mountain of hope.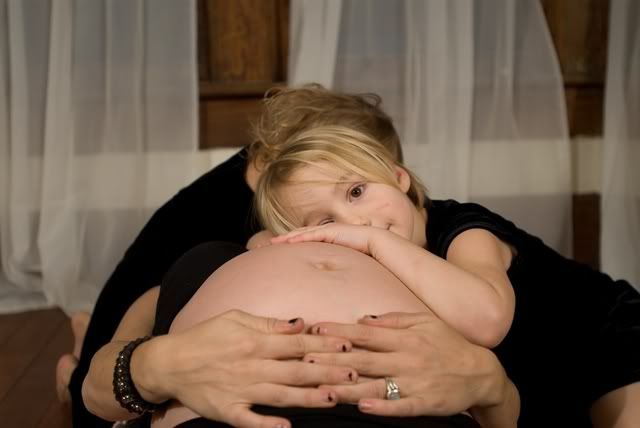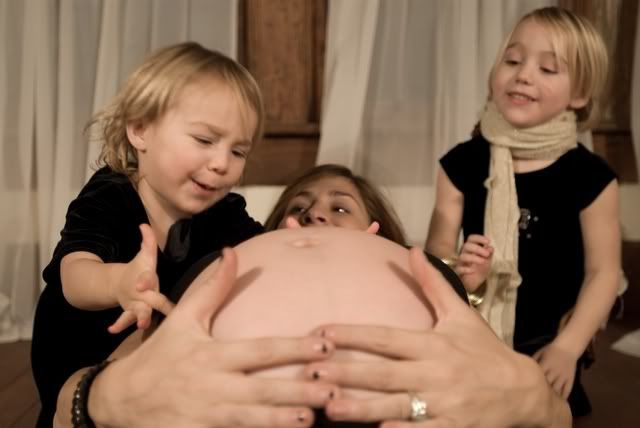 PHOTOS of the Dove Belly and the girls, COURTESY OF JASON BYAL.