Zaida, Zadie, Zazzle, Z, ZaZa…
Coos, laughs, squeals, grabs, marathon nurses (yet looks up in my eyes every few sucks, just to make sure I'm stll there and throw me a fab toothless smile) sleeps from 7pm until midnight until 5am until 7pa. Up for the morning rush and then back to bed for a few hours. Folks, I think I finally made a sleepy one. Her Kanoe Baby Hammock has been an awesome cuddle for long stretches of sleep. She actually screams at me when she's tired until I put her in there. Once in, she sighs, turns her head, and passes out. At first I was confused? A baby that didn't want to be nursed down and then held the whole time while asleep? Huh? Something strange and terrible must be afoot. Then I was sad, why does she want to be put down to sleep? What ever will happend the indentation in my forearm from holding the other two for the first year of their lives? And then I was like, yeah, ok, awesome. She wants some space. She's giving me some, too.
***
Easy, sweet and chubby with multi-layed thighs. Coming into her own voice, her own unique and bold personality, laughing out loud and singing along with her sisters. Our clan is being transformed and the kinks are smoothing out. I feel so lucky so be her mama, to have carried her with such authority and sensuality, to have birthed her with such a wickedly obvious force of creative passion and healing, and to mother her with a whole new page; wisdoms scrawled across it in a hurry, but wisdoms all the same. The post partum business is a very powerful teacher and I am learning that when the monsters meet me in the alley, all I have to do it look them in the eye, pay my respect, bow down to their guidance and surrender to the prickly and achey discomfort until I can transform it to hurt so good. Now that I am lifting above all the anger and saddness and totally awful fatigue of depression, I feel grateful. How the hell could I have gotten to this place, this lighter side of things, this empowerment of Mama X 3 if the darkness hadn't prepared me? Yoga means yoke or unite, it remains my one tangible path to health. This practice is to unite both the Dark and the Light, accepting how they intertwin like the snakes from the caduceus (which really reminds me of the Kundalini energy climbing the spine) until I can bring them eye to eye, not judging the differences between the two, nor weighing either in importance, because they are the same. When that moment happens the serpant becomes the wings and for split second I take flight.
All three of my chidren have spoken to me through their births, bringing me such unique gifts besides their cherished presence in my life. Mia's birth unexpectedly threw me unto the Warriors Path, birthing me into Teacher and capturing the sacredness of the everyday. Sula entered in and reminded me that the path of service is to open the heart and pour out love, listening to all our stories and holding each one with equal weight sans judgement. And Zaida, my newest birth, so fresh in the mind yet far enough way now that I can see it's light: Freedom. I am free.
***
We are moving again. Very close to where we are now; but outside the city where the rivers party together and the organic farmers orgy on fertile soil. We sit on a half acre and give thanks. A small house, not by the world's standards, but by our culture not many mothers want to cram five people in 1200 square feet, but for us, it's perfect. It enables us to let go and cleanse out, opeing up for freshness. There is so much to be said about this and I will eventually begin this journey of words once we are all moved in and after a few wabi sabi sunday's slurping coconut popcycles and watching for rainbows and searching for spiders and splashing in creeks and tending the garden. I laugh when I think there was a time when I found it bizarre to have moved here without really knowing why. Or that I doubted this move when we arrived homeless or when the sun hid for three months. But I see now, I was initiating myself and my experiences are like sacred text. And now that I know we can do anything, I can forget all the stories of how I got here and just be here. I'm honored to share as life unfolds at Three Sisters Mini Farm. Besides the sisters, the tall trees and clean air and snowy peaks are sure to be my teachers and as they fill me in on stuff, I'll pass on as I can.
Until then, some moments.
When I turn down my street, my breath becomes me and I feel home in my body.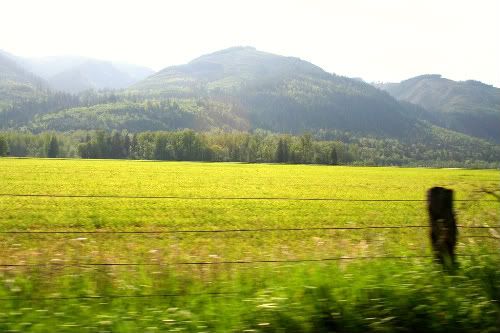 " border="0″ />
Some of the yard, and the spot in back by the shed…that's where misplaced mama's writing studio shall soon stand.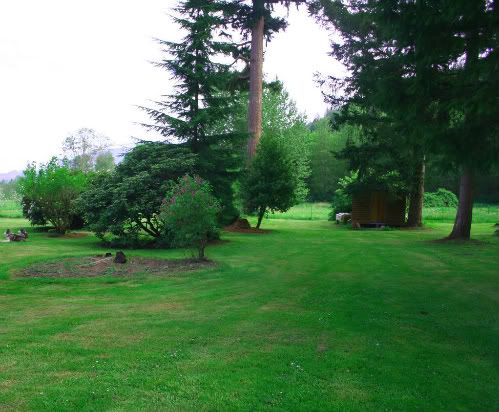 " border="0″ />
Finally resting.
" border="0″ />
Two of the three sisters after a picnic of strawberries and asparagus.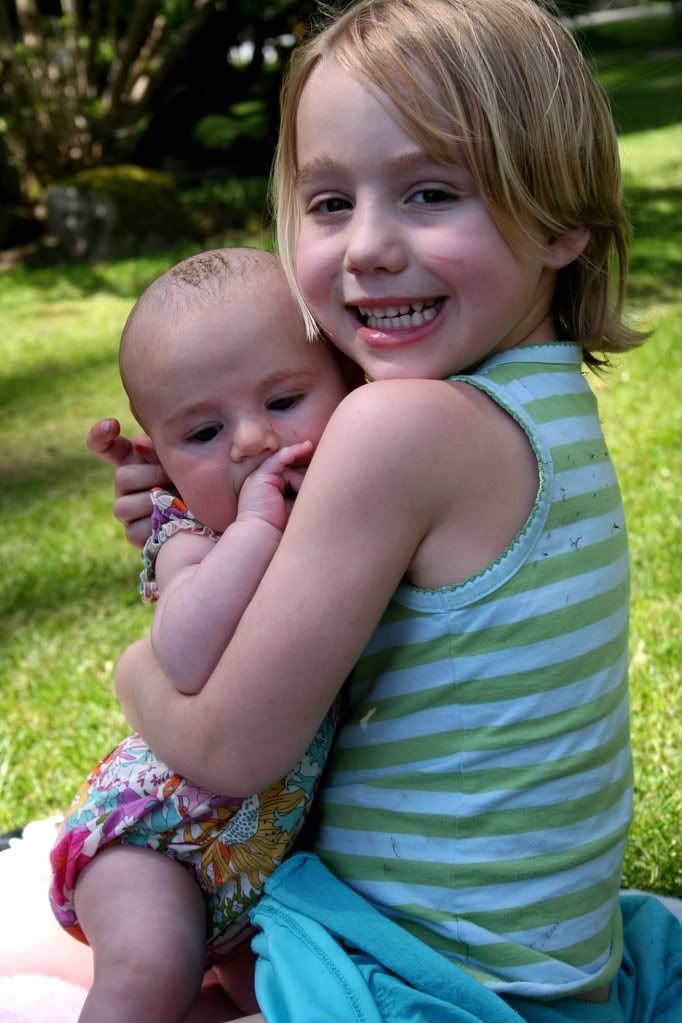 " border="0″ />
One love.
" border="0″ />