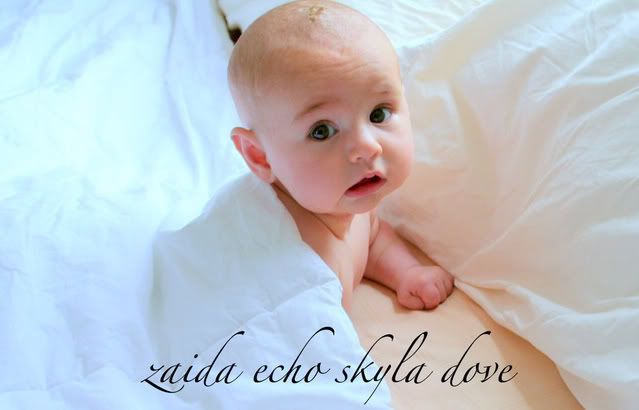 Nothing like a chubby baby, skin to skin, sweaty and sticky, giggly and drooling, hanging out on the banks of the river with her mama. For the past few days we've been celebrating you or something (maybe summer); bbq's, beers, chocolates, pies, homemade honey rose lemonade and lots of music.
You wake me up each morning by kicking me. You scoot your little body horizontal in bed and then use those feet of yours to kick away against my belly/chest area. When I finally give in, open my eyes, look at you; you flash me a grin larger than the sky. You sing morning songs, greeting songs, songs that prepare me nice and early for a long day ahead.
You are on the cusp of crawling and getting your teeth. We hold you and release you through these transitions. Each moment you prove to be a strong soul with a voice loud enough to go with it. You communicate your needs clearly with screams and squeals and interesting sounds from your source. You "official" name got lengthened and now I finally feel right about it, you are those sounds when they roll off my tongue. You did get a bit lucky. Sula still thinks we left in her other pick: squealer (skyla is also Sula's choice. She insisted since your birth that was your name.) Tomorrow, when you officially turn five months, I am heading to city hall. It's time we got you a birth certificate and a passport. What a big girl!
We aren't sure, but we think you may be the cutest baby we've ever seen. Dada thinks you like him best. Did the other girls smile at me like that? I don't think so….
You desperately want to eat what's on my plate. At three months you grabbed pizza crust from my hand and tried to shove it in your mouth. Now your big thing is watermelon. You are dying for a piece and you leap out of my arms in hopes to steal some from the table. No such luck, sister. No food for you. Not for another month, at the least. Show me those bottom two teeth and we'll talk about it.
You don't sleep anymore. You'd much rather suck on my nipple while you play the drums on my chest or arms. You also love to play with your feet and hands, suck on your toes, and clasp your fingers together like you are praying and grab at my necklace and try to stuff it in your mouth.
Your baby hammock is still a life saver. You hang on the Gravenstein apple tree in it. You become hushed, your eyes wide as they explore the leaves and branches that dance above you. I imagine you look at the shapes in the clouds and remember a time not long ago before your skin was out in this earth air. The starlings sing and your head moves to their song as you are bounced and cradled.
I thought you were my paci-baby. You used to suck on that thing to no end, taking it in the middle of the night, happily. You're starting to realize it's not my boob and figuring out you like my boob better and pretty much you get what you want. All night restaurant is now open. Paci is now a toy, you pop it in and out of your mouth, look at its ingenius invention and toss it a foot away from you.
Your bootey is totally like mine, cellulite a bit of boom-boom to go with it. Your ears are still elf, mine as well. It looks to be so our your constantly dirty little fingernails. But your eyes? Damn. Those come from another realm, really. People come up to us and stare…those eyes….
You love the outdoors, walking and laying and playing under trees. Anywhere your sisters roam is where you want to be. Your eyes scan the room for those girls, smile big when you get a glimpse of one as they flash by. You are a sister. Their baby sister. You fill that spot well. To imagine I wasn't sure how it was going to work. They adore you.
I've finally gotten through alot of the chatter in my over-worked mind and am listening and seeing your birth with original and unbiased senses. All I can say now is what once was clogged in me is now open, a funnel, a channel. You blew right through me, Z, and while you did that, you did once incredible clean-up job.
It's been kinda a crazy rush. My pregnancy with you, the birth, buying a home so soon after you were born. But you've led us the whole way here, we are quite sure of it. Your spirit roams and guides. You are just a little baby, so apparently loving each moment of your newness, not trying to be old or wise, you coo like it's your first time. But we know it's not. You led us here, I don't know how it happened, but it's obvious. You wanted this around you, you bask in your new garden of eden, your lush paradise full of berry bramble and apple trees, mossy fields and glacier feed rivers, your protective peaks, and spirit birds that soar close by you all the time. This is your home, Nooksack Land, holy land. We all feel it. Little girl, thank you so. Thank you for bringing us all home. I feel found after so much searching and waiting and watching. No more misplaced, just found; by you, by love, by the god damn greenest scene I have ever been part of. We celebrate these first five months, just slowly peaking our head out from the post partum labyrinth, ready to come up for some sweet, salty, sunny air.
Happy day girl. Thank you. Thank you. Thank you. I am starting to see who you are, the person underneath the cute baby and wow. You've made me a bit speechless, overwhelmed with love for who you are and why on earth I get to hold you while you grow. We all love you.
kisses,
mama