My feelings about education vacillate, daily. I live in the unknown. And I suppose that is all I need to hold and surrender to, is be okay with the unknown.
Mia's last week of school was before Christmas break began. The invoice that I had been ignoring had a whopping balance that rivals a late mortgage. I knew it was time to move on, or move out. Waldorf education is not accessible to us right now, as much as I love it, I am also very okay with it. I am not sad nor do I feel guilt for not doing more to be able to afford it. Our local Waldorf was willing to work with us on lower our monthly payment, but since they didn't give me the montly payment I originally requested, and knew was possible, we fell very behind. The damage had been done. A lower payment now was only going to cover late fees. And I am done with that, that life of living on borrowed money and accruing late fees. This is not what we choose. And so.
That left me 2 choices. Entering her into public kindergarten mid-year. Or keeping her home. We picked the later.
As I write I am debating whether or not to even share my philosophy (or lack of ) public schools curriculum and testing or home schooling/ unschooling. I'm not trying to make a point or debate anything. I think that each person has a choice and their choice is perfect for them. I just believe in love, and I love my daughter so much that no matter where she was, she was going to feel it.
Having her around has been interesting. I didn't realize how much of my day was rushing her…to get dressed, to eat, to buckle in, to be nice, to keep her hat on. All mother things, all good stuff. But it's nice now to create our own schedule. Very nice. And it's nice to just have more time, conscious time, to be with her. Listen to her. The mornings were all frantic about getting her ready for school on time and the pick-up was holding her while she unwound, unraveled and at times totally collapsed. Then it was dinner. Then bath. Then bed.
Now it's art.

A lot of art.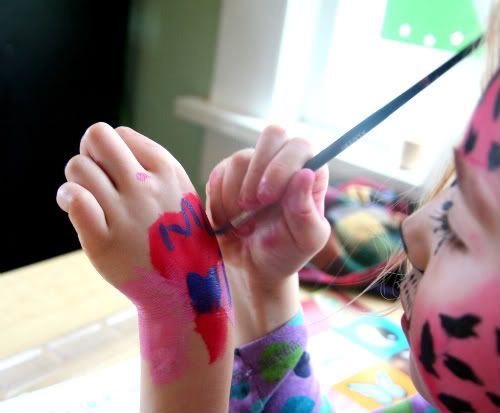 And making fairy houses where ever we see a need.
And reading. The littlest just wants to do what the biggest does.
And if all else fails we talk a walk down to the beach with a baggie of cheese chunks and some carrots. And we get lost in the playful ocean breeze. and kick some ass a top the pirate ship.
I am feeling something heal within the foundation of this choice. This particular child of mine has a lot of energy, she is vibrant and brilliant, but there has always been something between us, something hard. From the moment of her transition into life, when she got a bit stuck and then refused to breath for much longer than i liked. She came here telling me what she needed, and that I better listen. I think with having Sula so close after her and then the baby a stones throw past that, the listening got harder. I became the talker, the herder. I am working on this, this listening thing. And what I hear is that I don't need to know. I don't need to know if she should be in school or not. Now is just now and it's how we are spending our slow winter days, fire lit, warm milk and nutmeg sipped, paper and pens all over the floor creating stories together. Visits to pottery studios and children's theater and learning how to add up the sum of our groceries. I am feeling like I have more time than I have ever had before. I breath a bit more. I have more energy. And I see a sparkle in her eyes that maybe I was too busy for to long to even notice.