Where I roam She brings me happiness. She embodies compassion through all her movements and rumbles, washes and downpours, heat and mist. She is my Home as I pass through this body, right now, I stand on Her, she feeds this flesh and reminds me that this body just a holder, a container that I will give back to her. My boots stick in the new mud and someone spies a bald eagle, we get what a quick moment this life is, as fast as a flash of her lightning, and then we have passed on, what's left scattered like seeds a top her soil in hopes the roots will grow, deep, long, and then push on up so branches will twist and turn and reach back into the sky.
It is spring. We tolerate the long winter of rain to witness the instant pop of Green, a green that is pure as birth, a green as new as the red that slid from our bodies carrying new life. We come alive on this land, our excitement uncontainable. When you live in the fourth corner against that top edge of the ring of fire, we are boundlessly happy to embrace the Shift of Seasons. It's been a long winter.
It's not warm, but it's not cold. The wind still whips us apart at night, rips us at the seams while we sleep or fuck or doodle on this machine. It's a reminder that change is pushing against our everything; internal, external. We are in transformation mode, a process sufferer removal and scarcity banishing. The old stories of memory of mind and cell so we can ride free on the air tsunami, burst into open sky and rise up. Summer might be just around the corner and we have much to plant and harvest.
The girls and I have been explorers. Carefully taking in roots and leaves, watching flower petals reach out and up.. We roam the trails and sometimes get off them, rogue hikers we will always be. Sometimes they whine. Sometimes they run. Most of the time they sing. I carry the little one everywhere still. She doesn't quite know she's three and she humors me with pretending she is still my baby. My back aches when we're done, but we spend time in the kitchen creating a potion of this or that, a jar filled with something to shake or drink or send to a friend. Sula scampers around the wood floor, bare feet and bare bottom singing "it's spriiiiiiiig, it's springy, springy spring!"
We roam, and where we go, She brings me understanding of the short time we have to practice Presence. She reminds me that I have no plans, only rhythms of breath upon breath and to see, with my heart, what's in front of me. That is all we need. That, for today, is my definition of Love.
I walk and am reminded of the times our bodies could bend like the willow around the fallen tree stumps. How we made love there on the pasture for days and dreamed of the children while we slept under the piecing darkness. In the moment, I am given the gift of the past, it is a dance not a grip, it releases and lives.
We sit out on the balcony and wonder how many more setting suns we will see from this spot. 10,000 more or maybe none. It is a gift, it's in imprint in my center eye so when I stumble into the dark of night, and lay my head on your chest I'll know it's you.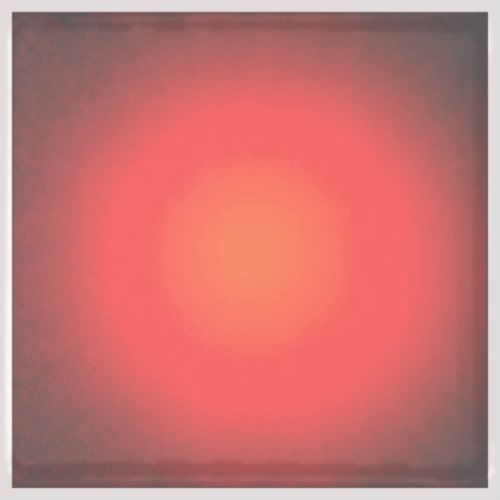 I find things in the forest that should be left alone. I stand back and watch. What do you need? How can I meet you there? I don't dare have an agenda for this beauty. I'll just listen and learn.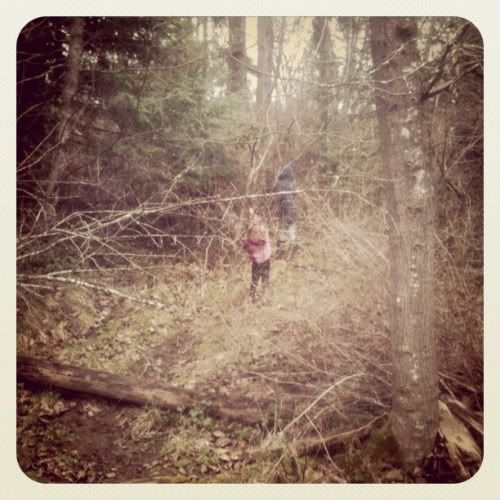 There are some things we gather. Because we heard it would be okay, they listen, those little ones, better than me. They are like clothes, she says to me, so don't take a lot mama. When the trees are bare and naked, the licorice fern cover up their bodies like little skirts. We only take a few roots because a strong tea only needs a small amount. We sleep soundly instead of cough tonight.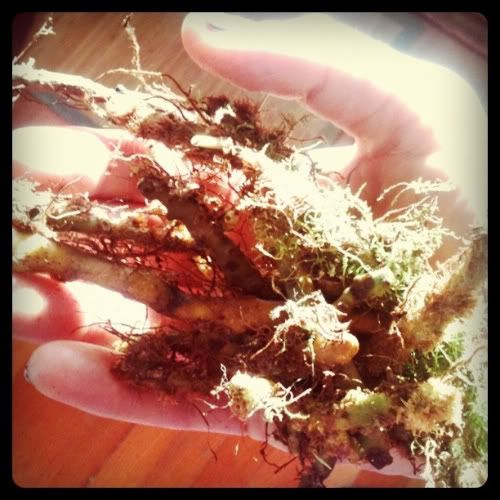 We know how to avoid her stings. But we make contact anyway. We like it, the tingle and the burn. Something about it makes us feel alive, like we are here. My joints find freedom in the small stabs, my blood cools down and my breath opens up; a wide canyon of exhalation.
These are the days we poke our heads out of the house. The firewood pile down to nothing and the mittens stored in a bin in the basement. There are the days we roam, we find birth in every corner, and the story unfolds, ripe and juicy like the soon to come berries.