Once we get on the road for a while, it's hard for us to stay off.
The land we are living on right now is ideal. Three acres just a spit across the county line; meaning a 5 minute drive down an amazing Chuckanut mountain road and we land smack in the middle of Bellingham. We live in the country in the city. The only drawback is that if you squint those ears ever so slightly you can hear the white water rapids of the 5 Freeway just up and away a bit. After a while it becomes silent, white noise to me, but really I appreciate it's existence. For me it is a reminder there is the wide open road right there, ready for me when I say Go. And for nomadic hearts, this is a lovely thing.
We made a commitment to ourselves for this summer. To have fun. Last summer was operations and healing and struggle to rise up above the growing pains. This summer we don't give a shit about anything but exploration, love, adventure, expansion. We want to throw it down and ride it out. So last weekend we hopped in the car again and headed East over the pass into Eastern Washington for the Conscious Culture Festival, a lovely family oriented gathering in the middle of mountains on the Barter Fair site. Mostly reggae music of course, but the ticket price included 2 whole days of yoga classes; kids and adult, massage, tarot reading classes, energy work classes, so much fun stuff (next summer YOU should come). But to be quite honest I didn't care where we were going. I just wanted to go.
Washington State is such a diverse land, layered like an onion, revealing all these different systems and styles. As we cusped the pass of our snowy pine forests, the desert started to reveal herself, the temperature rose, and the sun got hotter. The girls and I noticed all the different flowers blooming and how they compared with our rain forest to the west.
And then she (actually I think these flowers are more like a He) jumped out at me. Rising up, reaching for the sun, standing it's ground. Lupine. There was one. Then there was another. And then there were so many that we had to just stop. Usually when the flowers are asking to be our medicine that's how it works. I don't go looking for them. I just go….and if they want me, they will tell me. Lupine said, "let's rock it" and so i did.
Flower essence is a subtle and powerful medicine all in one. It's the essence, the energy of the flower just blooming. I feel like it's The People's Medicine. You need no skill to make these essences, except the skill to listen, love and respect. They are in abundance and they are here to guide us, to talk to us. They are not just for eye candy or the birds and the bees. They come here for reasons beyond our comprehension, but their essence does wonders on our subtle body, our mind and our soul.
I walked up a hill and waited until the right Lupine said, "yo". I found him (him because, come on…..does it not look phallic? all cone and erect? That's such a boy.").
Carefully we took him from his earth home (some flower essence are made without taking the flower from the ground, but that's not how I do it…..but it's worth a try!). I had a large container of purified water in my van and a clean tiny ball jar. The girls and I removed the petals with prayers and thanks, of things we'd like to see infused in the essence and we placed them in the jar with the water. I put the open jar on the dash. I was making flower essence nomad style. We continued on.
Until we came to a series of waterfalls. These falls were rushing like mad against the pass road and the girls squealed to get out and play. It was al glacial fall, so the water was straight from the source. I sorta had to stop again.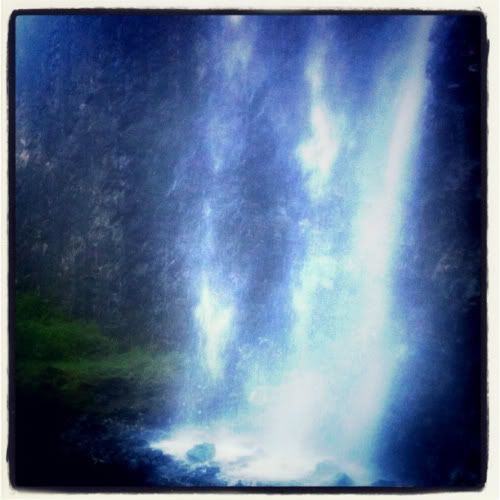 Because how could I not have glacial mountain water in this essence?
I felt like I was stepping through the veil from this life into another, the insides of the water, being invited to surround myself from what springs from the Source. It was sublime and I got absolutely drenched and it well worth it.
The festival was a perfect spot to allow this essence to infuse, on a rock, in the sun with the vibrations of heavy, heavy bass, children laughing, people dancing and hooping and sharing food all around. So this Lupine essence is packed full of love, water……and a bit of this
and this
For me this essence is about letting go of my fears. It's about stopping the bullshit in my mind and remembering that I am Uplifted. Already. I am Protected. Already. It;s about balancing my system and shifting what is off to on. I have been having bouts of fear regarding our fragile future on this planet. I'll admit that living at the edge of the sea against the ring of fire freaks me out. I'll admit that I worry about disaster and plague and food shortages. I'll admit to panicking about the well-being of my children and about my ability to keep them safe. And I hate that I still carry fear about a future that is never guarenteed. I want to choose to let go of everything but This Moment. Open my heart to what is in front of me, needing me, loving me. And if the Big One from The Sea decides to dance 100 feet up in the air and splish and splash around me, well then so be it. I will be here to heal and love, serve and guide, I will be one of the many to help midwife us all into a more beautiful existence. For me, this is what this particular flower essence is all about.
(our local flower essence guru at Tree Frog Farm says this about Lupine Essence. She's an amazing flower and tree essence cultivator whose has taught me a lot through her work).
We continue to plan adventures for the summer, road trips to hot springs and rocky mountains and herb fairs and urban goddess meet-ups for hair dreading and more music festivals because what a better way to spend a hot summer night than dancing in front of your tent with your kids? what a better what to connect with the earth but to listen to the medicine that it offers and accept the invitation to be part of this amazing web of healers….all of us. All of us.
Blessed.