He drives, his hat on crooked, his right hand rubs my upper thigh. I weave my fingers into his and squeeze, help him rub deeper into my flesh.
I crack the window a couple inches. Like a vacuum my face sucks the air in. I open my mouth and catch it as it comes through. I'm so hungry for the wet nothing of night force.
To say these roads aren't straight is an understatement. But the deep curves and twists no longer cause us a panic or pause. Because of practice, intuition introduces us to every corner a hair before it appears and we respond with attention, hugging the line and watching for deer. This does not mean we can't crash and die. These roads are known for their deathly sheets of ice. But we take the risk; it's so damn scenic, the journey is worth it.
We are in the center of the forest on the "wrong" side of the hill and we face the "wrong" direction. For close to 6-months, we only get a glimpse of daily light, a small slice of sky might open and if it does you run right under it. The road wraps against the bottom of Chuckanut Mountain, the only place where the Cascades slope down to meet the craggy line of the sea. This narrow valley unfolds into salt water, so it's not only dark, but it's wet and when it's cold, it's ice.
I'm scared. My body rolls in psychic discomfort and opens the mental door for ghastly visuals to walk in, mostly involving swerving spirals until we reach the edge of something and free fall into flames. I have to go there, though, if only for a second. I don't know bliss or grace until I juxtapose it completely with gnarly, demonic moments of reason
The voice drops in with the air, rides on the molecules of gas. It's loud and deep like the original echo of creation.
What are you afraid of?
Death.
Death? You're scared of birth! Now listen. This year is Mother, and she's ready to give birth, she's real pregnant. You go with her, be in her, step over the edge and bring it all back home.
He puts his hand back on the wheel and our elbows touch over the middle console. A song we both like comes on. It's the one about sunrises being made for people like us who don't like to sleep. We press our elbows deeper into each other. I look right and can see the stripes of the freeway through the pines, moving parallel with us, reminding me that we could always be going somewhere faster but I appreciate the slower show, icy or not. It's riskier. I know. But I trust. The road. The dark. The ice. This Mother who brings a birth-like-death, approaching behind me. Ready to bind and gag the hell out of me and force me to surrender to it's feathery touch so I can slide down that bright light birth canal, open my mouth up like it's the first time and scream yes.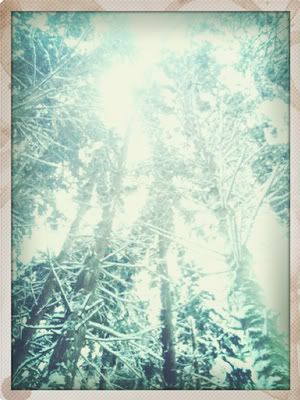 ---
The Mayans left the space blank. The Bible wants us to know a sea of fire. The Hopi's say Look! The ocean jumped up to touch the sky.
What could our ancient teachers want us so badly to know? What is so powerful about where we are right now?
It's creation story time. The story doesn't create us anymore. We create it. It's not that the words don't matter, but it's mostly actions that count.
Gather the Tribes. Design Fertility and Abundance. Commune and Expand. Give it Up to the Gods. Manifest, but don't just bring in, you gotta let it out and give it away. Dream the light into Reality. Be specific. Open your Heart even if you have to force your shoulders back down your spine. Practice Simple Complexity. Look between your third eye. Be knee deep in wild burdock. Don't just inhale. Exhale. Weave deep connection: Me, You, Earth and Beyond.
Christ is not going to return. He is already here, waiting to be unleashed with wild, unconditional love and spicy adventures. The Goddess is not just a myth to be told, she is real, wide-eyed, head thrown back, squats over a planetary pool of turquoise and reds, of feather beds and fields of cotton hammocks under apple trees and pushes. Buddha doesn't wonder a thing.
The end of the world is a tasty metaphor. Nothing ends; it's all infinite beginnings with 10,000 paths to choose from.
We re-remember we are spirits communing with the flesh, holding the helix experiences in pure energy within pure energy. That we are limitless life and movement. We are perfection in stillness and vibration in rest. We are morphic resonance. We are spread thick. We make space for what's to come, we don't cram ourselves only into a body because finally we see, we can step over and back wherever we want.
We are free.
This year we go back to the roots of the Earth, back to the ancient knotted, twisted roots of wisdom and knowledge embedded in the soul of the soil. This year we grow deep future roots. Our feet re-member and our head projects Higher. Our center stays in the moment.
This year we reach high for something saturated in galactic, popping in star shine, pixelated with cosmos, and foggy with nebula blankets. We become the future, the ones who make the leap and then begin to fly.
We are miraculous energetic orgasmic organisms evolving and we can't do it alone. So we commit to commitment. We practice accountability. We share in the honor of being humans together. We not only manifest to attract, we offer up to freely give, to feed the spirits hunger for our attention. We relieve the Self of the pressure and offer the extra joy to every.single.person we encounter.
The ancients will chant us through the psychosis and doubt; they will restructure our DNA and heal what weighs with ancestral memory. We will feel discomfort and confusion. We will feel alone. In interesting times illusions will try to pin us down and chat up against our ear but we won't listen. There will be bells and chants, the oms and the hums, the beads of prayers, songs of our children and whistles of the birds that are spilling in every corner of the universe, dark and light. Listen. Hold on to the sound and listen. Things like this will pull us through.
Let's drip each other with honey and then send each other off to the tomb/womb. We will lie down on jade floors and we will massage each other with pink salts. We will rest. We will watch. We know that there is no time; that there is plenty of time; that time longer matters.
We are born into evolution, a revolving door where inside and outside are love. A space that has always and never happened before. A time we have talked about since forever, since we were born we knew we'd be the ones to hold space for such a shatteringly brilliant spectacle of love and compassion, creation and innovation, wildfire and wild abandon.
We should probably just let death become us all. We need to embrace this apocalypse of the Self.
This is universal Alchemy. Pick your potion. Light your fire. Watch it burn. Gather what's left. Sprinkle it in your garden. Eat what grows. How romantic is this?
The tsunami comes through us and invites us to get swept away. The volcano explodes and melts us with the molten lava, asphyxiates us with the ash. These stories are here, these prophecies, to remind us. We are the Blue Kachina Star. We are our Judgment Day.
Pay attention. The sky will swirl. The ocean will lift. The wind will whip. Like always. The systems will crumble and be confused, will hold on for life. We can't run from shelter, we are the shelter. We can't run from death, we are the death. We can't be scared to be born, we are crowning already, our heads squeezing out to a world so new and true, it's only what dreams are made of.
This is the apocalypse people and it's beautiful, perfectly beautiful.